Title: The Mermaid's Mirror (ARC)
Author: L.K.
Madigan
Hardcover: 320 pages
Reading Level: YA
Published: Oct. 4, 2010
My copy:
NetGalley
.com
My rating: 3 out of 5 wicked hearts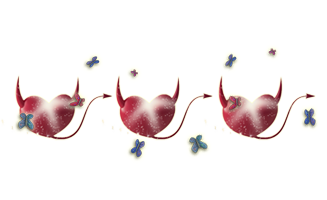 Blurb (from Amazon.com):
Lena has lived her whole life near the beach – walking for miles up and down the shore and breathing the salty air, swimming in the cold water, and watching the surfers rule the waves – the problem is, she's spent her whole life just watching. As her sixteenth birthday approaches, Lena vows she will no longer

watch

from the sand: she will learn to surf. But her father – a former surfer himself – refuses to allow her to take lessons. After a near drowning in his past, he can't bear to let Lena take up the risky sport. Yet something lures Lena to the water … an ancient, powerful magic. One morning Lena catches sight of this magic: a beautiful woman – with a silvery tail. Nothing will keep Lena from seeking the mermaid, not even the dangerous waves at Magic Crescent Cove. And soon … what she sees in the mermaid's mirror will change her life …
My thoughts:
It has taken me a bit to form an opinion on this book. I love a good happy ending so this book's ending, while happy in some aspects, left me disappointed and feeling cheated. I found the story itself interesting but the parts that interested me the most were located in the last 1/3 of the book. The first 2/3 gave you a lot of background info, some character building, and some wandering-filler type info but when the mermaid part came into play and her "true" love interest..it was toward the end of the book. I need more of that!
Lena has always felt drawn to the ocean, not knowing why and when she finds herself sleepwalking to the beach and singing songs that she never remembers hearing, so she starts doing a little investigation into her Mother, that was killed, or so she thought, when she was just a baby. She also wants to learn to surf like all her friends and boyfriend, but her Dad forbids it, never really explaining to her why. She she defies him and starts surfing on her and ends up getting saved by a mermaid, then things start rolling.
If I knew there would be a sequel to this book, I wouldn't feel so cheated by the ending, but my romantic heart was pretty bummed out. The author's website does not clarify if this will be a series or not. I wish there had been more time spent on the mermaid aspect and all that entailed, instead of it being crammed in the last 1/3 of the book.