Title:
The Education of Bet
Author:
Lauren Baratz-Logsted
Published: July 12, 2010
Hardcover: 192 pages
Reading Level: YA
My copy:
Around the World Tours
My rating: 4 out of 5 wicked hearts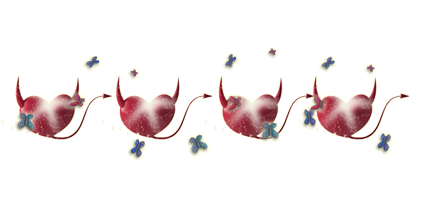 Blurb from Amazon.com:

When Will and Bet were four, tragic circumstances brought them to the same house, to be raised by a wealthy gentleman as brother and sister. Now sixteen, they've both enjoyed a privileged upbringing thus far. But not all is well in their household. Because she's a girl, Bet's world is contained within the walls of their grand home, her education limited to the rudiments of reading, writing, arithmetic, and sewing. Will's world is much larger. He is allowed—forced, in his case—to go to school. Neither is happy. So Bet comes up with a plan and persuades Will to give it a try: They'll switch places. She'll go to school as Will. Will can live as he chooses. But once Bet gets to school, she soon realizes living as a boy is going to be much more difficult than she imagined.
My quick wicked thoughts...A quick and hilarious book about a girl determined to follow her dreams, no matter what it takes.
Why I was tempted to read this...I have been a fan of Lauren's writing for awhile (see my review on Crazy Beautiful) and I love historical fiction, this was a no-brainer read for me and I have been looking forward to it for months!
Cover thoughts...Very pretty, very time-period appropriate.
Romance Meter...It was about a 3.5 out of 5 on the romance, there is definitely an attraction between Bet (or Will as she calls herself when she is in disguise) and her roommate, James. This romance of course cannot be pursued too much because James thinks she is guy! When Bet gets to attend a dance as herself when "Will" is sick, the romance starts there with the obvious spark between the two and keeps things heated up, especially when she has a tendency to want to act like Bet when she is Will around James!
Character and Plot...Bet is determined to get an education, something not allowed to women in the era she lived, even if that means cutting off her hair and learning how to be a guy. Will, the boy that was brought up as a brother to her, doesn't appreciate school and would really rather join the military and start living his life, so Bet proposes a trade. She will be him and go to school (since he has to start a new one for getting expelled from the last one) and he can go join the military. While trying to plan for everything, of course, Bet forgets some very important things and doesn't know about others, so needless to say she isn't really prepared for a lot of things at school. This book had me laughing out loud at some of the stuff she was doing and how she reacted to certain things, but this girl has backbone and I really liked that about her. James, her roommate and future love, is very mysterious and different from most of the kids at the school, his character develops more towards the end of the book. At 192 pages, this is a quick, light read but one I finished in an afternoon because it was really fun to read. Bet and her antics will have you laughing out loud and flipping pages because you will want to know what kind of trouble she will get into next.
The Ending...It ended was pretty predictably but good. Everything wrapped up nicely with no major surprises except with James, because you just didn't know much about him. You will walk away chuckling and smiling and wishing the book was a little bit longer so you could stay in Bet's world to see what she will get into next. If you haven't read any books by this author, I urge you to grab one and get ready to crack up, she has a great sense of humor.
Fun Author Fact...Throughout college, on semester breaks she worked as a doughnut salesperson, a job she swears gave her white lung disease from inhaling all the powered sugar flying around. Oh I would gain so much weight working there! ha ha