Title:
13 to Life
Author:
Shannon

Delany
Paperback: 320 pages
Published: June 22, 2010
Reading Level: YA
My copy:
Traveling ARC Tours
My rating: 4 out of 5 wicked hearts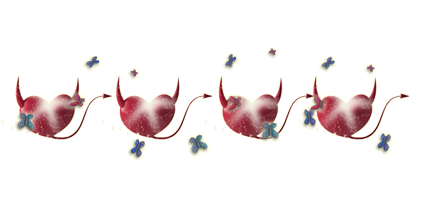 Blurb from

Goodreads

.com:




Something strange is stalking the small town of Junction…

When junior Jess

Gillmansen

gets called out of class by Guidance, she can only presume it's for one of two reasons. Either they've finally figured out who wrote the scathing anti-jock editorial in the school newspaper or they're hosting yet another intervention for her about her mom. Although far from expecting it, she's relieved to discover Guidance just wants her to show a new student around—but he comes with issues of his own including a police escort.

The newest member of Junction High,

Pietr

Rusakova

has secrets to hide--secrets that will bring big trouble to the small town of Junction—secrets including dramatic changes he's undergoing that will surely end his life early.
** I am trying out a new review system...tell me what you guys think!**
My quick wicked thoughts...
This books is a great start to series that wraps in werewolves, mafia, and rebellious teenagers with a cliffhanger ending.
Why I was tempted to read this...
I love a good werewolf story and the title of the book intrigued me.
Cover thoughts...
The cover was pretty cool, I originally thought the "eye" was that of a wolf but on closer inspection it appears to be a human eye...with really big eyebrows (trim those dude!)
Romance Meter...
It was about a 4 on a scale of 5. Jessie has a crush on the popular guy in school who has just recently shown an interest in her since she started showing the new guy,
Pietr
, around.
Pietr
is at first rude and aloof but it gradually turns to more with Jessie, with complications from Jessie's friends.
Characters and Plot...
I thought the main characters were pretty well developed, you know what Jessie is thinking and why and she is very likable ...and
Pietr
, well, he is just a mystery until almost the end of the book, which kept me flipping pages. I thought the supporting friends characters could have been developed more, they were kinda glossed over in the first of the book and it wasn't until later when you found out more info on one of them that I could actually remember them apart. From the blurb about the book you can obviously tell that it is about werewolves but you really do not get the details about that until the very end of the book, in my opinion, if they had left that out of the blurb, I would have enjoyed the guessing game of what exactly
Pietr
was. It wouldn't have been shocking or anything, but just a nice mystery.
The Ending...
Can you say cliffhanger and unanswered questions? ha ha. Yeah...I am definitely tuning in for the second in the series because there is a lot of teaser information about character and events that I am dying to know about. No details on the second...but there better be one! UPDATE from Shannon! Per the copy edits on book 2 it is scheduled to be released Fall 2010 but she has also been given a date of January 2011. Let's hope it is more like Fall 2010, ha ha!
Fun Author Fact..
. Shannon wrote
13 to Life
in 2008 and won the Grand Prize in the first ever cell phone novel contest,
textnovel

.com
. How cool is that? She has expanded the original version with additional characters and sub plots to reveal the final novel as we see it today, I just think that's amazing!