Title:
Beautiful Darkness
Authors: Kami Garcia and Margaret Stohl
Hardcover: 512 pages
Published: October 12, 2010
Reading Level: YA
My Copy:
Around the World ARC Tours
My rating: 3 out of 5 wicked hearts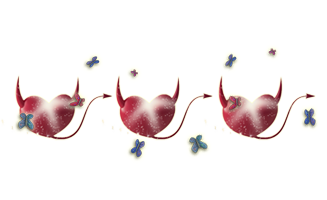 Blurb (from Amazon.com):
Ethan Wate used to think of Gatlin, the small Southern town he had always called home, as a place where nothing ever changed. Then he met mysterious newcomer Lena Duchannes, who revealed a secret world that had been hidden in plain sight all along. A Gatlin that harbored ancient secrets beneath its moss-covered oaks and cracked sidewalks. A Gatlin where a curse has marked Lena's family of powerful Supernaturals for generations. A Gatlin where impossible, magical, life-altering events happen.

Sometimes life-ending.

Together they can face anything Gatlin throws at them, but after suffering a tragic loss, Lena starts to pull away, keeping secrets that test their relationship. And now that Ethan's eyes have been opened to the darker side of Gatlin, there's no going back. Haunted by strange visions only he can see, Ethan is pulled deeper into his town's tangled history and finds himself caught up in the dangerous network of underground passageways endlessly crisscrossing the South, where nothing is as it seems.
My quick wicked thoughts...the second book in the series that I wish I had loved as much as the first.
Why I was tempted to read this...Beautiful Creatures was awesome so of course I wanted to read the sequel!
Cover thoughts...I loved it just as much as the BC's cover, both are dark, spooky and gothic, gotta love it
Romance meter...very low :( see below why!
Characters and plot...I had some high expectations for this book considering how much I loved BC, and I have to admit, I was somewhat disappointed. I spent most of this book wanting to kick Lena for being such a witch toward Ethan and then I wanted to kick Ethan for putting up with it! When Lena pulled away from him, she did it in a big way and was very unpredictable. It was pretty much breaking my heart for Ethan. The story was fairly slow until Ethan discovered the tunnels and started exploring and things broke wide open. The plot was engaging at that point and I was just done with Lena ha ha. There were some questions that got answered in this book from BC and Ethan develops more as a character, which I was happy to see. I am still just DONE with Lena :) Maybe the 3rd book will redeem her.
The ending...was dramatic and exciting, all that I was hoping. I was thinking to myself that this book could end quite badly, but I was satisfied with the ending.