Title: Claire de Lune
Author: Christine Johnson
Hardcover: 352 pages
Published: May 2010
Reading Level: YA
My copy:
Peace, Love and Pat ARC Tour
My rating: 4 out of 5 wicked hearts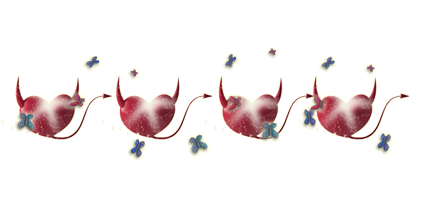 Blurb (from amazon.com):
Torn between two destinies?
Claire is having the perfect sixteenth birthday. Her pool party is a big success, and gorgeous Matthew keeps chatting and flirting with her as if she's the only girl there. But that night, she discovers something that takes away all sense of normalcy: she's a werewolf.
As Claire is initiated into the pack of female werewolves, she must deal not only with her changing identity, but also with a rogue werewolf who is putting everyone she knows in danger. Claire's new life threatens her blossoming romance with Matthew, whose father is leading the werewolf hunt. Now burdened with a dark secret and pushing the boundaries of forbidden love, Claire is struggling to feel comfortable in either skin. With her lupine loyalty at odds with her human heart, she will make a choice that will change her forever?.
My thoughts...
What an awesomely unique book on werewolves and pack dynamics! This books shakes up what you thought you knew about werewolves, in Claire's world...everyone knows they exist although she certainly doesn't know anyone that is one. Or at least that's what she thinks until on her 16th birthday she starts the change and her mom drops the bomb....yup, werewolf. She is in the process of changing but will take 3 full moons (3 months) to completely change 100%. At first Claire is freaked, her life is over and she can't believe this is happening to her...and just when she starts dating the perfect guy. Well, he was perfect until she found out she's a werewolf and his Dad happens to the leader of the anti-werewolf party that wants them locked up some they can experiment on them. As Claire gets more in tune with her werewolf self she opens up to the possibilities and wants to be a part of the group to find and stop the rogue werewolf that is killing people in her town.
The books starts out interesting but a little slow as you get to know the characters and let them evolve to a point where you know where the plot is leading you. I wasn't totally shocked by the ending, but I have to admit that the last 1/3 of the book was pretty action packed and I couldn't put it down. It definitely kept my interest and I look forward to reading the next in the series, or at least I hope there is one, I haven't seen anything definite on that.