Title:
Low Red Moon
Author:
Ivy Devlin
Hardcover: 256 pages
Published: September 14, 2010
Reading Level: YA
My copy:
Around the World Tours
My rating: 4 out of 5 wicked hearts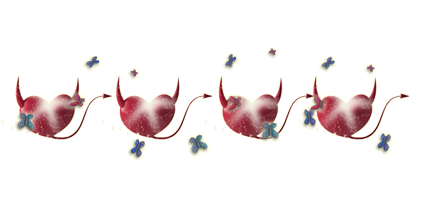 Low Red Moon is about Avery Hood, who is reeling from the loss of her parents--and the fact that she can't remember what happened to them even though she was there.

She's struggling to adjust to life without them, and to living with her grandmother, when she meets Ben, who isn't like any guy she's ever met before.

It turns out there's a reason why, and Ben's secret may hold the key to Avery finding out what happened to her parents...

But what if that secret changes everything she knows about--and feels for--Ben?
My quick wicked thoughts...Murder, romance, mystery and werewolves packed into a pretty quick read.
Why I was tempted to read this...I enjoy reading about werewolves and this one looked to have a different take on it.
Cover thoughts...The ARC cover is not the final cover to be used per the author's website, and I forgot to take a picture of it before I shipped it off, sorry! It was pretty cool...lots of red and spooky trees and a moon. I heard the final cover is amazing, can't wait to see it!
Romance Meter...There was definitely some sparks going between Avery and Ben, especially when he would give her smoldering looks and his eyes flash silver. I would give it a good 4 out of 5 on the romance meter.
Character and Plot...I have to say when I was about 1/4 of the way thru this book, I just thought the story and telling of it was just...weird. Not necessarily weird-bad, just different so it took me awhile to be immersed in the story. That being said, I certainly didn't want to walk away from the book, I needed to know what was happening! Avery is a strong female character that was being raised quite "green"...for a lack of a better word. She lived with her parents out in the woods with unreliable electric service so they survive with solar panels and grow most of their own food. Her parents were murdered but Avery doesn't remember anything about it except a flash of silver. Avery then goes to live with her Grandmother, who appears to have her own secrets, but she is a rock for Avery even though they were not previously close.
The Ending...Avery's journey to discover what happened the horrible night that her parents died spans the whole book, with various tidbits of things she remembers on the way. The ending is not necessarily predictable so I enjoyed not really knowing for sure what happened until the end.
Fun Author Fact...The inside cover of the book stated the Ivy Devlin is a pseudonym for a popular and critically acclaimed author of teen fiction. News around the merry-g0-round is that it is Elizabeth Scott, who you might recognize wrote The Unwritten Rule
and Something Like Fate
. Her website does not confirm this.