Title:
Linger
Author:
Maggie Stiefvater
Hardcover: 368 pages
Published: July 20, 2010
Reading Level: YA
My copy:
Around the World Tours
My rating: 4 out of 5 wicked hearts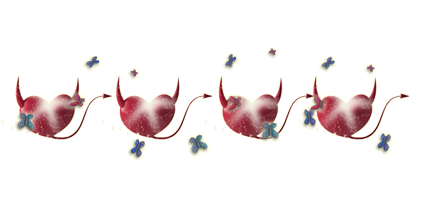 T

his is the story of a boy who used to be a wolf and a girl who was becoming one.

Just a few months ago, it was Sam who was the mythical creature. His was the disease we couldn't cure. His was the good-bye that meant the most. He had the body that was a mystery, too strange and wonderful and terrifying to comprehend.

But now it is spring. With the heat, the remaining wolves will soon be falling out of their wolf pelts and back into their human bodies. Sam stays Sam, and Cole stays Cole, and it's only me who's not firmly in my own skin.
My quick wicked thoughts...The 2nd in a trilogy packed with wolves, parental boundaries, teenage rebellion, and friendship. There is also the addition of a few new characters.
Why I was tempted to read this...Shiver
was just awesome and I could not wait to hear more about Sam and Grace.
Cover thoughts...Understated but also cool in the fact that it looks like tree limbs, but one of them is actually a girl walking.
Romance Meter...Well hello, Sam and Grace were together most of the book! If you read Shiver
and remember the book store nook part..you know what to expect. While the romance isn't so much new anymore, it is comfortably settled and they are always in the others thoughts.
Character and Plot...The book told from 4 alternating view points and surprisingly flows extremely well. I usually feel a little cheated when the author is popping from person to person, but this is seamless. The two obvious voices are Sam and Grace, also added in was Isabel and Cole. Cole is one of the wolves newly turned by Beck to help carry on the pack since Beck was convinced he was not coming back from being a wolf this year. The whole book spans the winter months so you really get to see very little of the other wolves, it is mostly tied up in the drama of Grace's sickness and the issues she is having with her parents. It seems a little slow at times and I wonder why we are not getting to the part we have been waiting for the whole book, but there is plenty to keep your interest. Sam is having to deal with a few of the new wolves, stepping into Beck's shoes, which he really wants no part of, especially the troublemaker, Cole. I really wished we learned more what was going on with the other wolves, there are mysteries galore that I am sure the author will clear up in final book, or I certainly hope so!
The Ending...The ending was not surprising, but was left wide open for the final book, Forever, coming out July 2011.
Fun Author Fact...If you are like me, and really unsure how to pronounce Stiefvater, Maggie gives you some help on her website FAQ. It is pronounced "Steve-Otter".